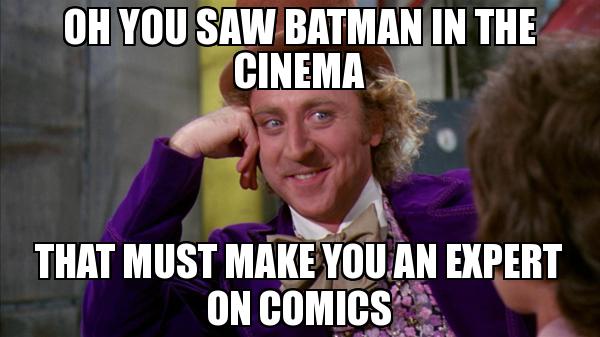 If you're like me, the above describes you perfectly. I like superhero movies and games and apparel, but I'm pretty useless when it comes to the actual comics. I've never been able to get into them. Of course, the term has expanded- it's 'graphic novels' for the library, and these can be historical, memoirs in cartoons, really, any story primarily composed of pictures. There are new ones every day! Whether you're comically challenged like me or you're a graphic novel genius, here are a few that caught my eye from YALSA's graphic novels for teens list.
1. No Normal- G. Willow Wilson:
Kamala is the new Ms. Marvel. She has to discover who she truly is when she suddenly finds herself in possession of great power- and we all know that with great power comes great responsibility! I think this one looks really cool, and I'm waiting to get it for myself. If you think it sounds interesting, you can check it out on the library website
by clicking here.
2. In Real Life- Cory Doctorow & Jen Wang:
This is a story of how online gaming can blur the lines of reality and fantasy. An online player finds out a poor player is collecting game objects and selling them to other gamers for real currency- a highly illegal action. It details how shady the line between right and wrong can become when people's lives are at stake. I think this is a really cool concept, and I love the cover, even though I haven't had a chance to read it myself. If you htink it sounds good, click
here
to hold a copy.
3. The Gigantic Beard That Was Evil- Stephen Collins:
Admittedly, KHCPL classifies this as an adult graphic novel, but it's a really fun read. I thoroughly enjoyed this story about a man's life being upended when he suddenly begins to grow a beard that cannot, and will not, be defeated. Sounds strange, right? But it's funny and smart and the pictures are engaging, as a good graphic novel should be. You can find it
if you click here!
Whether you're comic-savvy or pictorially challenged, graphic novels can be a fun way to branch out your reading comfort zone and expand your horizons. It's all good, but don't be a poser- nothing is more annoying that someone like this:
P.S. Keep your eye out for June 1- That's the Summer Reading Club kickoff party here at the South Branch on Center road, and our theme this year is....drumroll please...SUPERHEROES! It's the perfect time to get into some good comics to win cool prizes and have a fun summer!