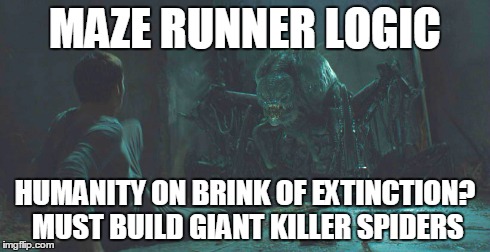 There aren't a lot of books for a male audience in the YA genre at first glance. But if you take a good look, there is a real selection- and a lot of them are growing ever more popular! Here are just a few that I love (and my brother has read them, too).
1. The Maze Runner- James Dashner:
I'm on the Maze Runner bandwagon and I'm not ashamed to admit it. (And I loved it before it was cool!) This is an amazing series with fabulous characters, a unique plot, and SERIOUSLY COOL MONSTERS. I still remember being on vacation in Tennessee when the third book,
The Death Cure,
was released. I had the first two books with me, and once my brother and I had finished re-reading them, I begged my parents to find me a Barnes & Noble or a Borders so I could buy #3. They didn't, but once I got my hands on it, I devoured it like all the rest. This is a great favorite of my whole family, and the movie was really great, too.
Put a hold on the series
here.
2. The Alex Rider series- Anthony Horowitz:
In my personal opinion, these books were written solely for boys. They're action-packed, and there's not much in the way of 'mushy feelings' or 'gooey drama'. This is a series that focuses on the teen spy and the way he works through all his assignments, with all sorts of settings and pretty awesome covers, to boot. There's a movie made from the first book, too, both titled
Stormbreaker.
They really are great books, and Horowitz is an action writer who deserves to be given a chance.
Check out his books
here.
3. The Gone series- Michael Grant:
While this is a series not really geared toward boys or girls, it certainly appeals to both. For boys, though, the appeal is obvious: teens trapped in a radioactive, impenetrable dome, mutating into superheroes- or villains- with a sinister monster waiting to destroy them all. There's action, monsters, powers, and that ever-changing struggle between good and evil, which is just what sucks you in to the lengthy series, each book more twisted than the last.
Grant's
BZRK
series is also a great one for boys, dealing with nanotechnology and secret wars.
Click
here
to see everything Grant has written for teens.
4. The Pendragon series
-
DJ MacHale:
This is a series that spans worlds. The unuiverse in which this series takes place is complex, dangerous, and wildly exciting in a way that few adventure books can claim. Every book (there are 10 in the main series alone, plus side stories) is a new world, a new challenge, with the same ultimate enemy that the main characters have to defeat. I remember the first time I picked up one of these books- it was the sort of book I didn't want to put down, and I didn't want the series to end.
Find the series
here.
Girl or boy, these are four sets of books by four outstanding authors that will make you happy to be reading instead of watching TV.